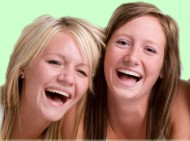 Look and feel your best
Brighten your life by brightening your smile. Now is the perfect time to look and feel better about yourself with a whiter, healthier, and more confident smile. One of the first things you notice about people is their smile. When you meet someone with a bright, natural smile, it catches your attention.

Our state-of-the-art ZOOM! Advanced Power (TM) Whitening System is quick is a third generation system after ZOOM! And ZOOM2, it is effective and delivers a naturally brilliant smile that can last for years.

Teeth whitening is achieved by exposing the teeth to The active ingredient of hydrogen peroxide or its compound, it has been used for many years as an antiseptic in the mouth and since about 1989 have been used extensively to whiten teeth.
IN-OFFICE WHITENING
As its name says the IN-OFFICE whitening is done at the dentist chair and under his supervision. This method of whitening produces the results in the shortest amount of time. First, the gingiva is isolated and lips are pushed away. The whitening gel is placed on your teeth, and a light is turned on, then your relax. It's as simple as that. Your doctor will do the rest. You'll have a brighter smile and whiter teeth before you leave the office. This procedure can fit into your busy lifestyle. It is usually done in about an hour. It can quickly give you a beautiful, white smile for that important occasion.
TAKE-HOME WHITENING
Through this method, two custom made containers are fitted to the size of your teeth. And given to you for self administration, you will be provided with a whitening gel in a safe formula for home use. You should start by brushing and flossing your teeth. Remove the cap of the syringe, and express the contents evenly into the deepest portion of the tray and towards the outer side of the whitening tray, apply a small amount at the posterior teeth area. Seat the tray over the teeth, and gently remove excess gel that may flow beyond the tray's edge, you may rinse your mouth carefully now. Refrain from smoking, drinking or eating while trays are in position. Most of the whitening effect happens within the first two hours, remove the trays thereafter, brush your teeth thoroughly, clean trays and store until next day. Continue this process daily for about a week, or until the material is over. Do not store the syringes in direct sunlight. When done, save your trays as you will need them if you ask your dentist to refill your whitening gel if you desire additional whitening in the future.

Contact us to find what method is best for you, here is some sample cases, notice the great improvement in the cosmetic value of the smile when the color whitens even when the teeth are not lined straight such as in case 2.

CASE 1 CASE 2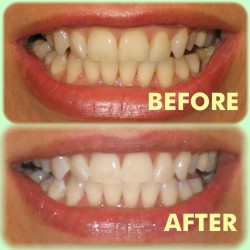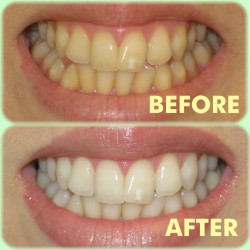 CASE 3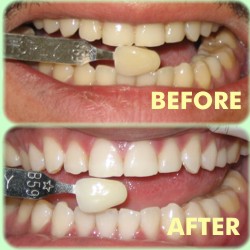 ---
Our newsletter is your shortcut to
information and promotional offers.